Dan Wells
Operations Manager
I grew up in Florida for 38 years before moving to Tennessee in late 2021. I've been in retail management for over 20 years with various companies. I attend IRSC, UCF, and FAU.
My core values are Integrity and fairness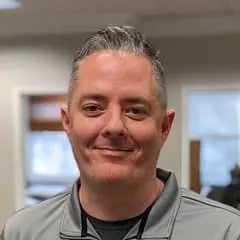 What I do here at Simply Physio is I don't specialize in any one area, but I tend to do whatever needs to get done. I wear many hats.
Something patients have to deal with that I want to fix I want to create a better patient experience in the medical office.
What I love about working here at Simply Physio is the great patients, great team, and great results.
When I'm not working, I'm reading the news, woodworking, drumming, hockey, and video games.