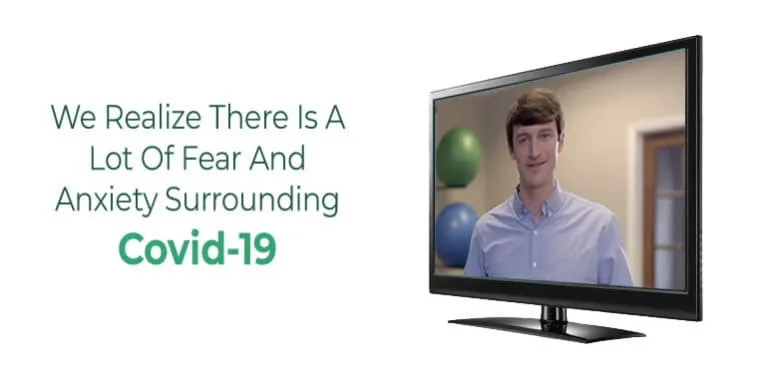 We pride ourselves in putting the CARE back in health-care.
And we realize there is a lot of fear and anxiety surrounding Covid-19.
We understand you may have questions about how we can all do our part to stay healthy.
Well I personally think that when the market crashes and is low, that is the best time to invest.
One of the biggest barriers to taking care of our health is TIME.
Many of our patients are now getting more time back with cancelled trips, school, or travel.
This is an incredible time for you to invest in your health. It has the best ROI.
How can we leverage this time to our advantage?
I am not saying we want sick or high risk people to come to the clinic (if you're sick at all, or immune-compromised PLEASE stay home) but instead of hiding out and hoping for the best we are open for business so we can do what we do best, help eliminate fear, anxiety, frustration, and worry from our clients lives, so that you can have a greater capacity to control, respond, and react in healthy and helpful ways!
So instead of us closing off, we are opening up 
Obviously we will be smart and continue to assess as the facts change while taking ALL necessary precautions, but what message are we sending our clients if in tough times we wait it out and just hope for the best? No, in tough times that is when we have the potential for the most growth!
That is the message we want to convey to our community. Life is always going to throw a wrench in our plans, however we have to keep moving forward, and moving forward is much easier with an incredible support group/community that we have at Simply Physio.
I want to make a promise to you all that whatever happens, we're here for all of you. We'll update you regarding anything that may be put into place as we know. WE as a community do ESPECIALLY well at making light out of the dark, overcoming obstacles daily, and realizing not everything is within our control but how we all respond is within our control. So lets focus on positive, helpful, and encouraging responses for ourselves and within our spheres of influence.
If we can support you in any additional way, please let us know. Small actions can make a big difference when everyone helps out — thanks for doing your part!
Wishing you the best, all day and every day
John-Mark
PS: read below for helpful tips on how you can boost your immune system and steps we are currently taking to "do our part" at Simply Physio
Ways to Help Keep Yourself Healthy and
 

Boost Your Immune System

:
What We Are Doing at Simply Physio to
Stay Clean and Safe:
Video Visits/
 

Telehealth Are Available

 

for Those Who Want to

 

Stay Home and go Virtual

: